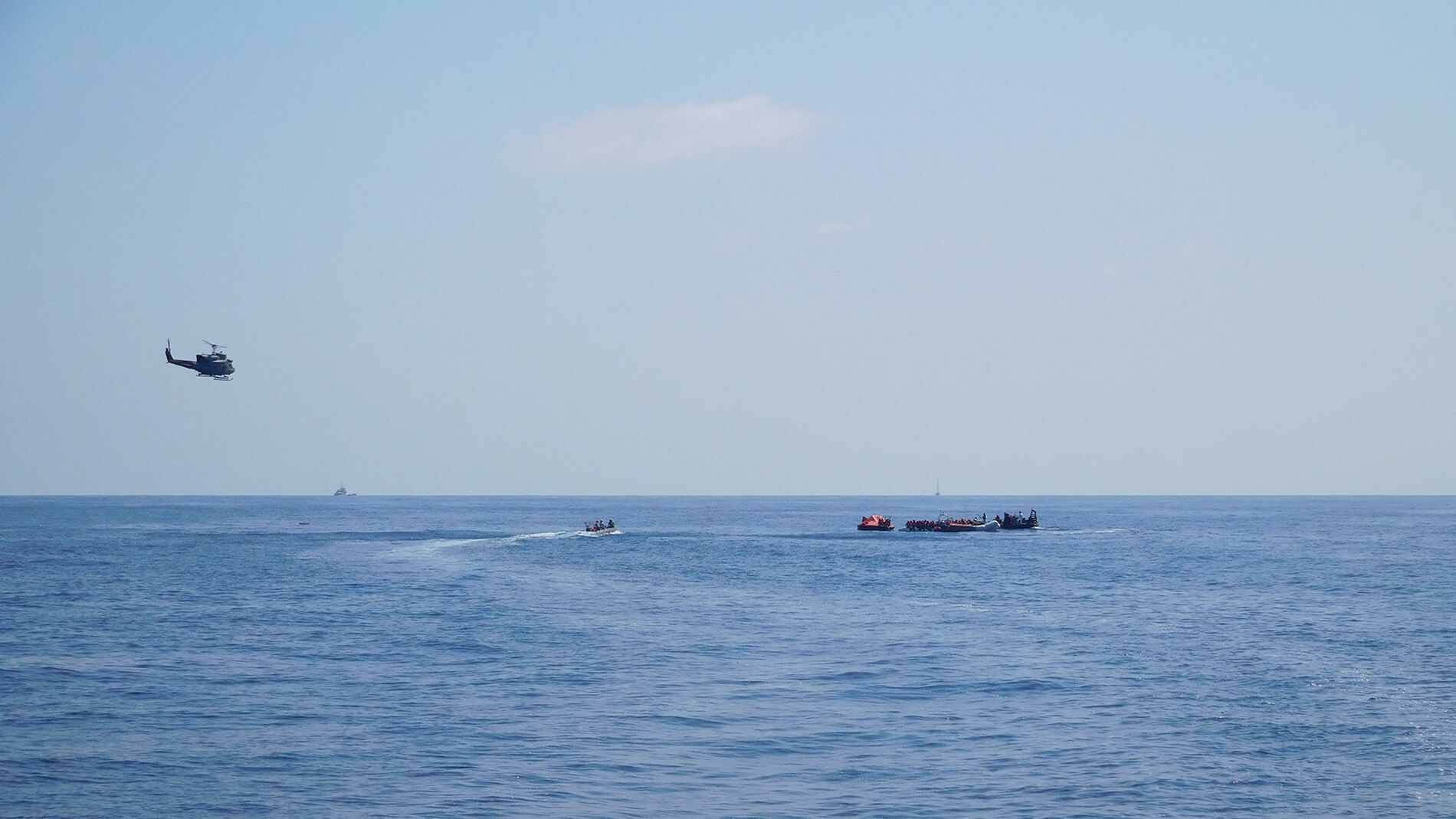 Prosecution repeatedly fails to provide basic fair trial rights
October 29, 2022
29.10.2022 Court of Trapani. In the biggest court case against crew members of the civilian sea rescue, the judge was finally unable to bring the case any step forward. Once again, due to procedural errors on the part of the public prosecutor's office, the proceedings against the 21 accused, who face up to 20 years in prison for "aiding and abetting unauthorised entry", had to be interrupted.
The defendants are four crew members of the rescue ship Iuventa and others from Doctors Without Borders and Save The Children. The Iuventa operated in the central Mediterranean between 2016 and 2017, rescuing more than 14,000 people from distress at sea. The ship remains under custody of the Italian authorities since its seizure on 2 August 2017.
Procedural irregularities, disregard for basic standards of a fair trial and even unlawful investigative methods have been already subject of many hearings since the beginning of the trial.
The right to a fair trial limits abuse by governments and state authorities. Fair trials are a cornerstone of the rule of law and thus of democracy. When fair trial rights are violated, there can be no democracy: in the case against the Iuventa-crew, we witnessed prejudicial publicity against the accused and a violation of their right to be presumed innocent, unreasonable length of investigations, illegal wire-tapping, an interpretation of the rules by prosecution that led to an attempt to prevent an accused from testifying during the investigation phase, and a denial of the right to translation of incriminating evidence.

Nicola Canestrini, lawyer of the defendants
States increasingly turn to criminalization to restrict life-saving search and rescue work, but also migration itself. Systemic failures to provide adequate translation undermine the defendants' right to a a fair trail, in contravention of national and European law. The chilling effect this can have on civil society activities across borders is alarming, with even more devastating consequences for people on the move facing incomprehensible charges in foreign courts.

Alev Erhan, ECCHR
The case of the Iuventa-crew is not the exception but only one example. European courts are a wheel in the works of the racist border regime, sentencing thousands to prison who do not even understand what they are accused of. Every refused translation denies a fair trial.

Kathrin Schmidt, one of the IUVENTA defendants

Many are concerned about the impending Italian crackdown on all those who stand in solidarity with people on the move. Only recently Mary Lawlor, UN Special Rapporteur on human rights defenders, strongly condemned the judicial persecution of the Iuventa-crew and others in front of the UN General assembly:

My advice is to put a stop to jailing, smearing, deporting, kidnapping and physically attacking those who are helping refugees, migrants and asylum seekers.

Mary Lawlor
If people don't get a fair trial, the verdict is actually already set. People who dare to flee are made criminals for that reason alone. And if, despite all efforts to push them back, they manage to arrive in Europe alive, that is already suspicious enough to charge them and imprison them.We, on the other hand, have been accused of showing solidarity with people on the run. The strategy against us is clear: blockade our ship, intimidate our crew members, take as long as possible to detain us. In the meantime, people continue to die on Europe's doorstep. But we will not be intimidated, neither in the court rooms nor at the borders of Europe! We remain in solidarity, we remain active and resistant.


Dariush Beigui, one of the IUVENTA defendants